Litter Announcements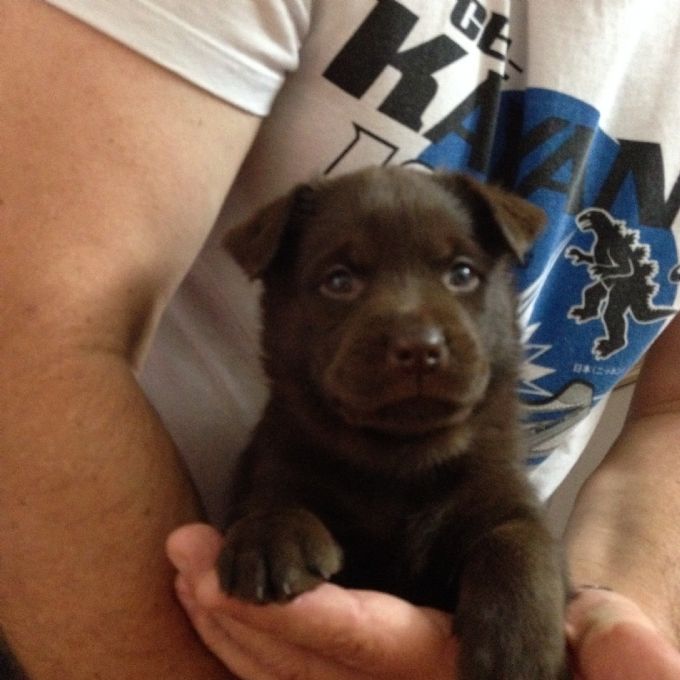 Janie - Sandsprite Calamity Jane was inseminated by Aussie -Gr Ch Sandsprite Land Down Under
Babies were born on 21 November 2020
3 boys and 3 girls
ALL SOLD
they will be ready to go to there new homes 16 January 2021
These litters are all subject to change and available to approved homes only. If you think you would be interested in any of these litters, please contact me. I have decided to no longer take lists as I find many who ask to go on my list, dont let me know when they have purchased a pup elsewhere, so I end up doing alot of ringing around for nothing. So if you are after a pup from me, please keep an eye on my website, and once I have announced a mating, then you can contact me about putting your name down for a puppy. As it seems that everyone wants chocolate females, you might find you will need to wait a while for one. Please keep in mind that kelpies are great dogs regardless of colour. And kelpie males are just as nice, if not better, than females, especially as you will end up desexing them anyway.
If you are after a puppy sooner than what I have coming up, I can put you in contact with other breeders and see if there are any puppies suitable for you.
Puppy prices for 2020 -
$1800 on Limited Register (not for showing or breeding, puppies will be sterilised
$1800 on Main Register (this is for pups that will be shown or used for breeding, but only on agreement)
Your Sandsprite Australian Kelpie Puppy
When you purchase a Sandsprite Australian Kelpie puppy it will be a minimum of 8 weeks old and had been well socialised with its mother as well as any other older dogs I have, as well as friends who come to visit. This will help the pup learn social behaviour in the critical young age. When you get your pup home, you need to expose him or her to as many new things and noises as possible as well as lots of well behaved and vaccinated dogs. Please be aware of off leash areas when your pup is young. On the down side, there is a chance of picking up diseases from dogs not vaccinated and your pup needs to know what 'come' means so you can call it back to you at any time. A lot of bad habits can be learnt from areas like this if handled incorrectly. On the plus side, your pup can have heaps of fun meeting new friends.
Your pup will also have been regularly wormed from 2 weeks of age, will be microchipped, had any relevant vaccinations due.
Basic lead training and some basic obedience, like sit and come, will have been started as well (time permitting). I highly recommend that you continue the pups education when you get him/her home. Puppy Pre-schools are a great way to socialize your pup while it is still young, especially if this is your first puppy. Contact your local Vet or Obedience School for your nearest Puppy Pre-School. Afterwards you and your puppy should attend obedience classes to further your puppy's education. When the pup is old enough Agility is another great way to have fun and keep you both fit. Australian Kelpies excel at Agility. There is also Tracking and Endurance as well as Herding, which your kelpie was bred for. Also events like Lure coursing can be very exhilarating for you and your dog. All these dog sports are a great way to meet people with similar interests as you. If you are interested in any of these when you purchase your puppy just let me know and I will give you all the information you require to get you started.
If you are buying your puppy locally, it will come with a few things to help you get started . Like a toy, a sample of the food it has been eating, as well as a folder with some paperwork on the different things you can do and enjoy with your kelpie, some membership forms for clubs you can join (including the Canine Control Council for your state). This folder will also include your Puppy's pedigree papers. If the puppy is going overseas, I won't be able to supply a puppy pack but I am willing to supply any information to help out. Your pup will be registered on either the Main Pedigree Register or Limited Pedigree Register.
If your pup is on the Main Register (which will only be done under special agreement with myself) it will allow you to breed and show your pup as well as competing in all the performance fields (like obedience, agility, endurance, tracking and herding)
If your pup is just going to be a pet or you really aren't sure what the future holds for the 2 of you, your pup will be put on the Limited Register. This will still allow you to compete in all the performance fields, but you will not be able to show your pup or breed from it. The pup can be changed up to Main Register in the future if you decide you would like to show or breed your pup. But again this will only be under special agreement.
If you are not going to be breeding from your pup, whether it is male or female. Then I recommend desexing at 7 months old. In females, this will stop those unwanted messy seasons and male dogs hanging around as well as minimizing the risk of cancer and diabetes in your dog, I would hate for you to lose your best mate in the prime of his or her life. In male dogs it will help to minimize aggression, dominance and wandering as well as decreasing the risk of testicle cancers. Think of what is best for your dogs well-being not what you would like on a whim. Breeding of dogs is an expensive and risky business. You will rarely make money on it and there is a big risk you can lose your much loved female if she is having complications. Breeding should only ever be taken on because you believe what you are doing will improve the breed, not be done because you think it would be cute to have some puppies. Believe me, kelpie puppies are a handful!